Penn Medicine Cobalt
Free Mental Health Platform for All Penn Medicine Employees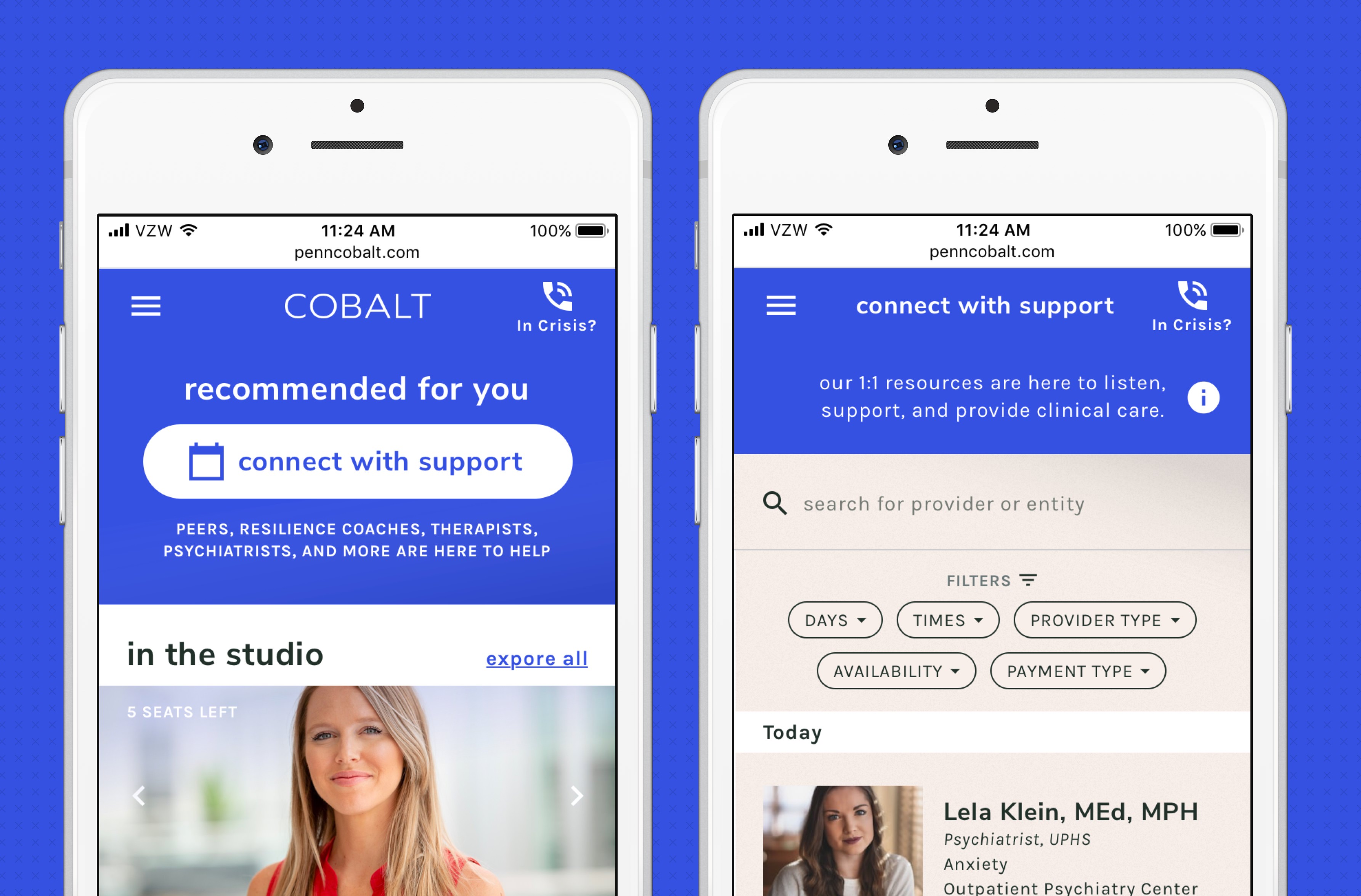 Cobalt is a tool for the Penn Medicine Community that uses targeted assessments to direct you to the right level of mental health coping support. Anonymity is an option. Help is available.


Context
In the wake of the COVID-19 health crisis, Penn Medicine's Department of Psychiatry and Center for Health Care Innovation formed a team to help provide as-needed mental health resources and consultation to all Penn employees. Having worked on multiple projects with the Center for Health Care and Innovation, Penn contacted us to help them design and build a platform with which employees can access those resources quickly, safely, and sometimes anonymously. Cobalt is a web application designed for mobile first.


Proposed Solution
Working with the team at Penn, we designed a platform that allows users to answer a few questions and get personalized recommendations for everything from mindfulness exercises to consultations with different levels of mental healthcare professionals. Using evidence based assessments which are standardized within the industry, we are able to catch high risk cases before it's too late. In May of 2020, Penn published a press release on Cobalt, which you can read here: New Mental Health Platform Provides Support for Healthcare Workers.
The team at Penn hopes to grow Cobalt to be available to other health networks, including expanding the feature set to allow for providers and administrators to manage their accounts and content within the site. We've been designing with that in mind.


Design Process
Sitemap
Our first step in defining the Cobalt experience was to map a path through the application. We used this site map to define the navigation, identify potential problem areas when it comes to clickthroughs, and optimize for easy access to information. This helped us build a solid foundation for our wireframes.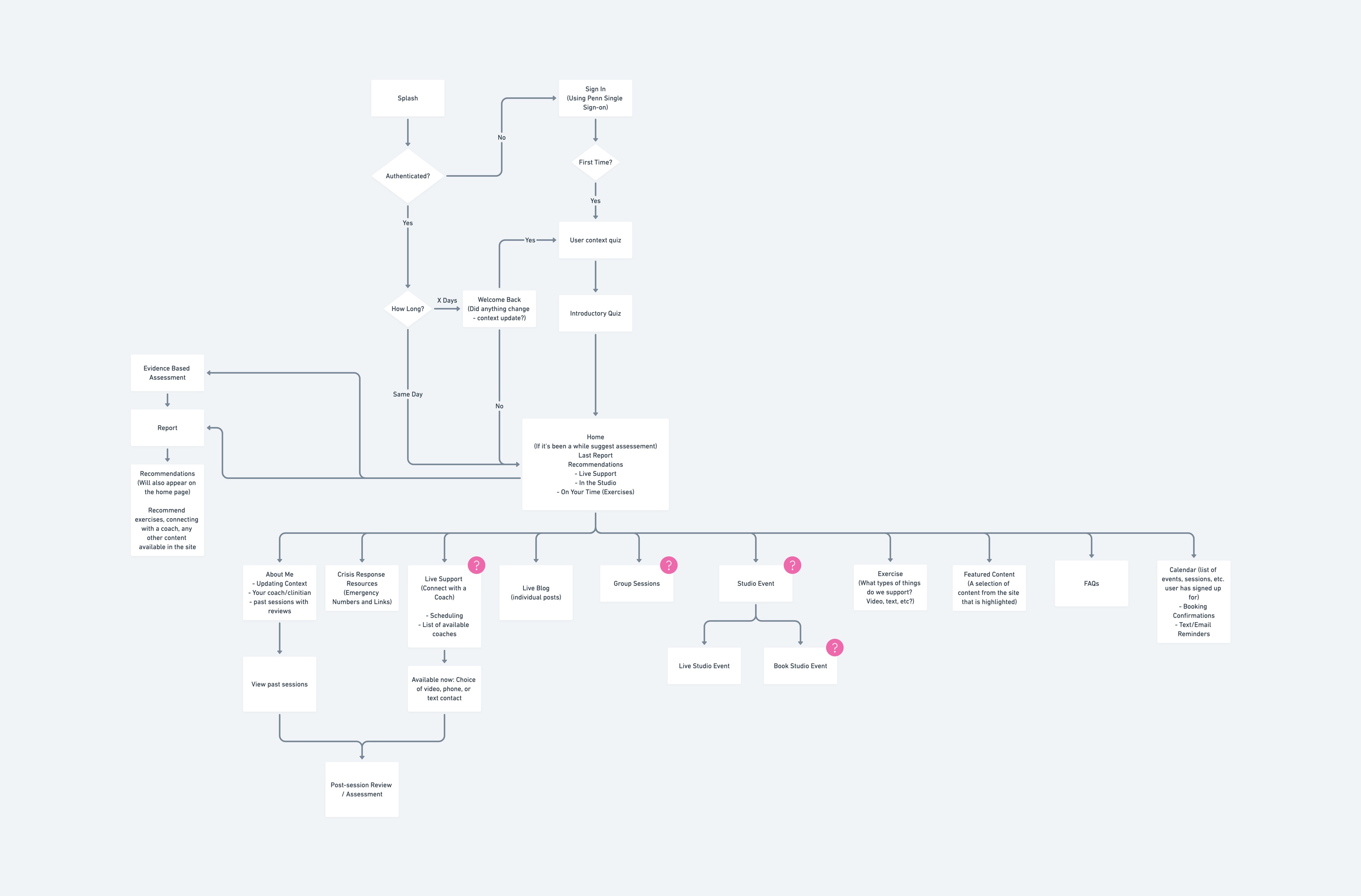 Wireframes
With Cobalt our objective was mobile first web design. The goal was to focus on Penn Medicine employees, many of whom are on the move throughout their work days, and provide an easy way for them to get access to the resources they may need during this difficult time. Using mobile UI best practices, we designed and built the site to meet these needs.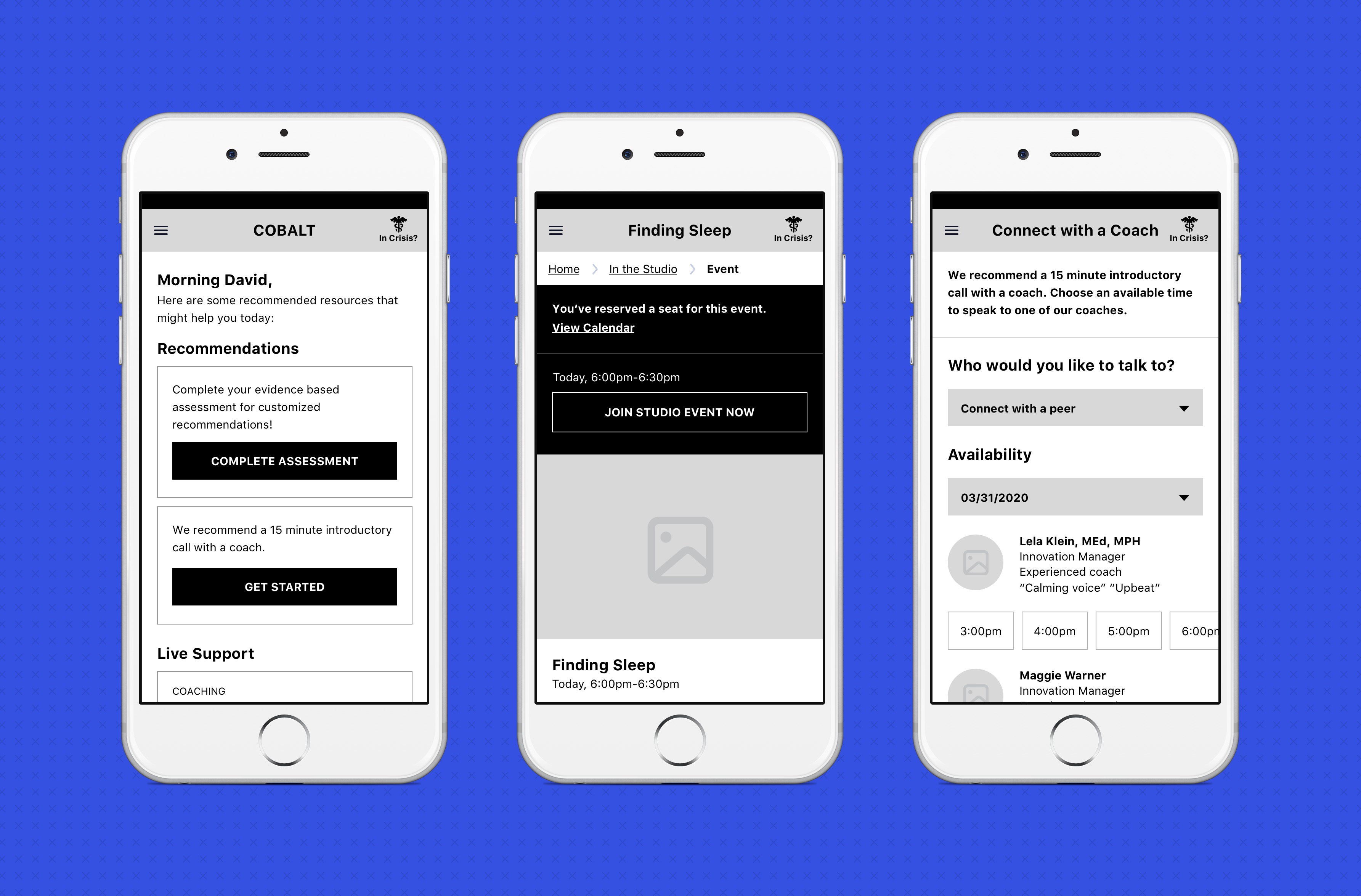 Mockups
Members of the Penn Medicine team had a specific aesthetic in mind for Cobalt and we worked with them to build a design system to meet this vision. Using an earthy color palette and geometric sans serif fonts, our intent was to give Cobalt a mid-century feel.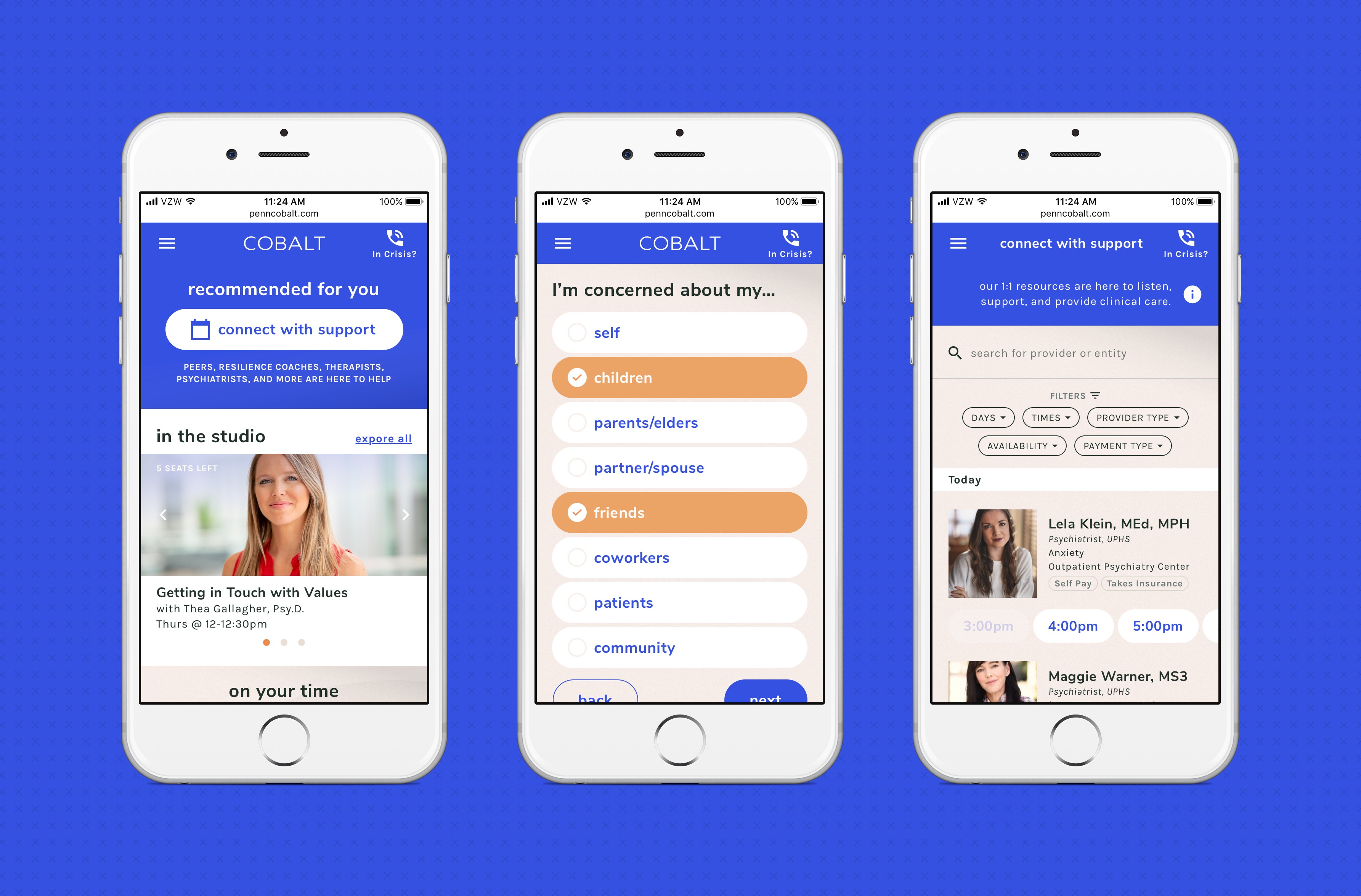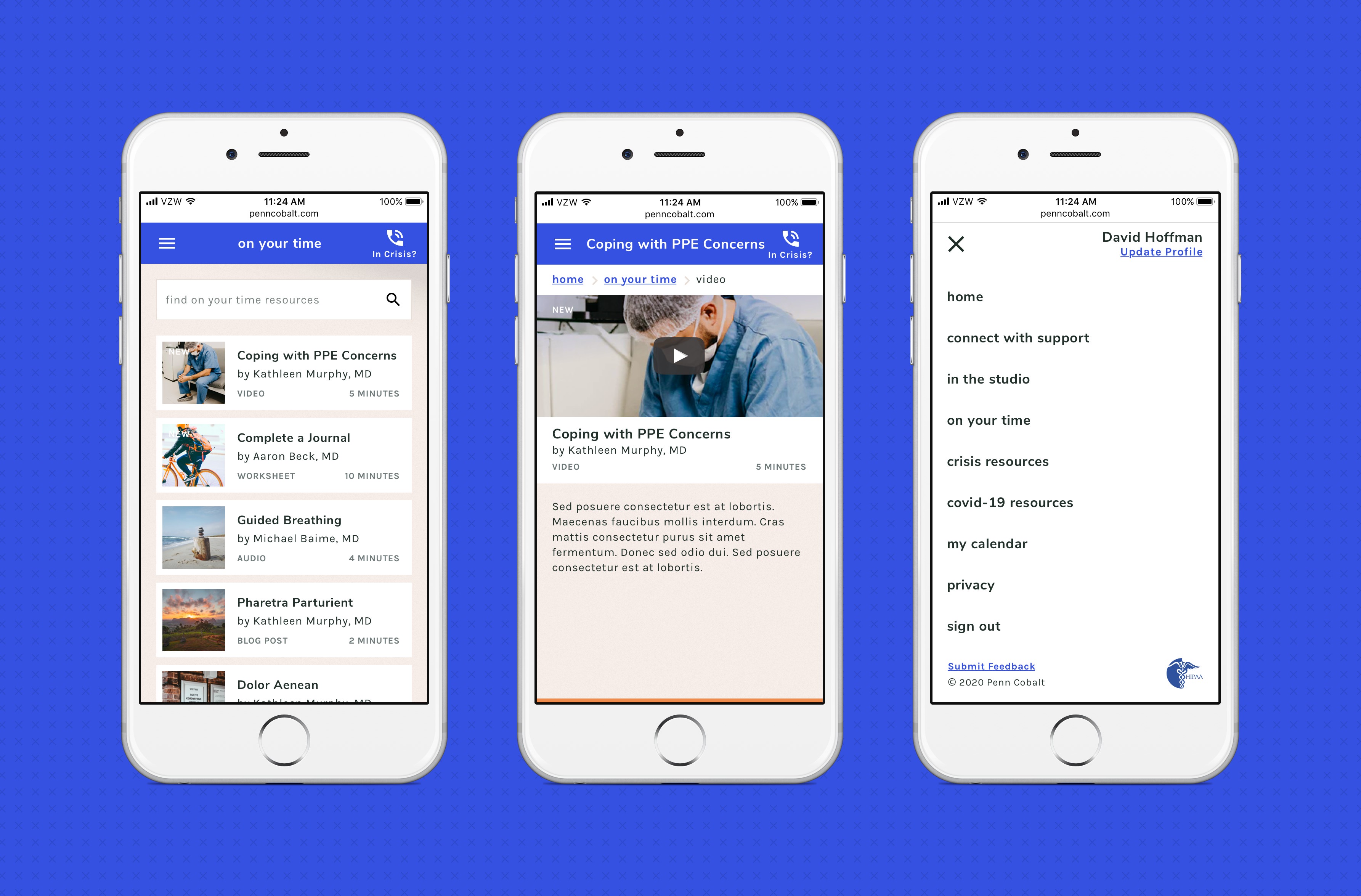 Launch and Reflection
Cobalt launched for patients in May and we've heard tremendous things from their community. We've had hundreds of mental health consultations scheduled through the platform, and look forward to the future, including growing the feature set to incorporate provider and administrative functionality, and expanding the Cobalt platform to other health care networks.